17 Seat Minibus Lite
Whilst every effort will be made to supply the make and model requested, in the event of it being unavailable an alternative will be supplied.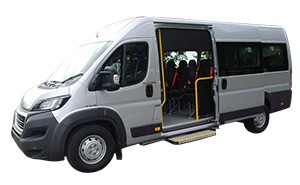 The 17 seat minibus lite is an excellent solution for all manner of group travel purposes. With easy access to the rear seats by the sliding doors, they are easier to get in and out of than regular cars. A vehicle designed to carry sixteen passengers plus the driver comfortably is perfect for family events such as weddings. This vehicle comes with specialist equipment for disabled passengers. Drivers are required to hold a B driving licence. Please note that this vehicle is not suitable for use outside of the UK, as it is not fitted with a tachograph.
If you passed your driving test after 1st January 1997 and do not have a D1 entitlement to drive a minibus, you can still drive the Minibus Lite, if you;
Over the age of 25 and under the age of 70
Held your licence for a minimum of 5 years
Are driving on a voluntary basis
The maximum weight of the minibus is not more than 4.25 tonnes including specialist equipment for disabled passengers, e.g. a wheelchair ramp
You are not using the minibus to tow.
Requirements / Note
Licence Requirement: B
Required Age: 25-70 years
Full licence held for a minimum of 5 years.
Business users looking for longer-term hire/ lease options or our professional vehicle sign-writing service, please click here.

Diesel

Manual
---
Daily Mileage - 250 Miles
Weekly Mileage - 800 miles
Monthly Mileage - 2800 miles
European Mileage - Unlimited
Excess Miles - 15p + VAT