Dropside 7 Seat Crewcab Van
While every effort is made to supply the make and model requested, in the event of it being unavailable, an alternative will be provided.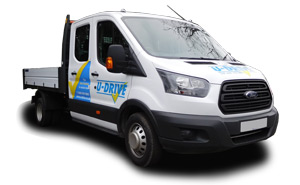 Dropside vans are popular with the scaffolding, logistics and construction industries and are designed to carry heavy loads safely and efficiently. The drop-down sides open the load space to enable quick and easy unloading. It seats seven adults.
Requirements / Note
Licence Requirement: B
Required Age: 23-75 years
Full licence held for a minimum of 1 year
Business users looking for longer-term hire/ lease options or our professional vehicle sign-writing service, please click here.

Diesel

Manual
---
Daily Mileage - 250 Miles
Weekly Mileage - 800 miles
Monthly Mileage - 2800 miles
European Mileage - Unlimited
Excess Miles - 15p + VAT