ELECTRIC Medium Car
While every effort is made to supply the make and model requested, in the event of it being unavailable, an alternative will be provided.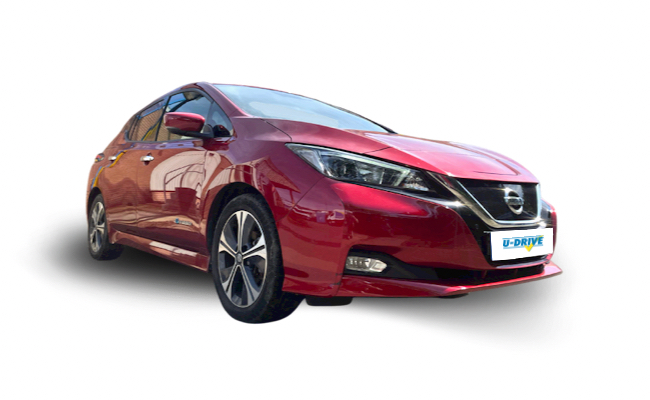 Simply Amazing! The Top Selling Electric Vehicle In UK. Intelligent Mobility. EV Car Of The Year 2018. Quick Charge Capability. World Leader in EV. 40 kWh Battery.

Main Features
e-Pedal (you can also use a brake pedal)
Nissan Safety Shield including Lane Departure Warning, intelligent Emergency Braking with Pedestrian Recognition, Intelligent Lane Intervention, Intelligent Cruise Control
Nissan Connect 8" Touchscreen Navigation and Entertainment System
Rear View Camera
Apple CarPlay and Android Auto Smartphone App Inegration
17" Alloy Wheels
Heated Seats and Steering Wheel
Privacy Glass
There are plenty of charging points available across the UK, and you can use services like POD Point, Ecotricity, Charge Your Car, BP Chargemaster and others without any issues and your U-Drive electric vehicle (EV) is compatible with them all. We recommend POD Point if you don't already have an EV charging account, as they offer free sign-ups and no deposits
Don't worry - we'll make sure there's at least 80% charge when you collect your vehicle.
Depending on where you are depends on whether you'll have to pay to charge your EV or whether you can charge it for free. Commonly, supermarkets, fast food restaurant chains and town/city centre shopping centre car parks offer free charging while you shop, as well as at thousands of workplaces, offices and at home too.
We recommend using Zap-Map.com to find your nearest public charging locations, for free.

For more information about Electric Vehicle click the PDF link below:
Requirements / Note
Licence Requirement: B
Required Age: 25-75 years
Full licence held for a minimum of 1 year
Business users looking for longer-term hire/ lease options or our professional vehicle sign-writing service, please click here.

Electric

Automatic

GPS
---


Engine & Transmission
40kWh Battery 2WD
Front Wheel Drive
Automatic Transmission
---
Daily Mileage - 250 Miles
Weekly Mileage - 800 miles
Monthly Mileage - 2800 miles
European Mileage - Unlimited
Excess Miles - 15p + VAT