ELECTRIC 9 Seater
While every effort is made to supply the make and model requested, in the event of it being unavailable, an alternative will be provided.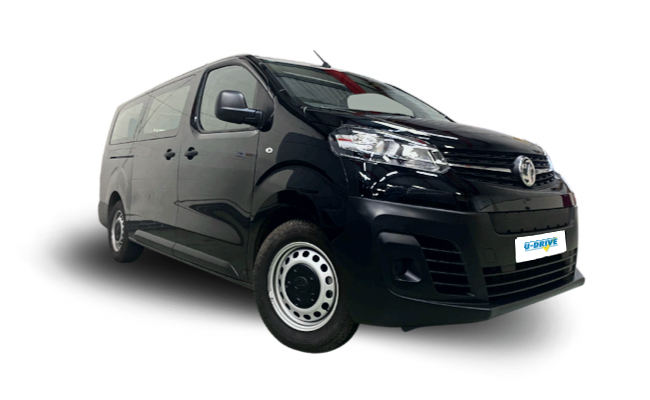 The large 9 ELECTRIC seat MPV is an excellent solution for all manner of group travel purposes. With easy access to the rear seats by the sliding doors, they are easier to get in and out of than regular cars. A vehicle designed to carry eight passengers plus the driver comfortably is perfect for family events such as weddings. Business users will find this a useful addition to their corporate fleet where teams need to attend events such as trade shows.
Requirements / Note
Licence Requirement: B
Required Age: 25-75 years
Full licence held for a minimum of 3 years.
Business users looking for longer-term hire/ lease options or our professional vehicle sign-writing service, please click here.

Electric

Automatic

GPS

Air Con

Bluetooth
---


Engine & Transmission
Perfectly Integrated Battery
All-electric Vivaro-e Life's fully-electric, zero-emission powertrain comes from a powerful 50kWh lithium-ion battery providing up to a 143 mile1 range.
Noise Free
The 100% electric battery and oh-so-quiet powertrain of All-electric Vivaro-e Life delivers a relaxing and extremely smooth ride. Everyone can sit back in the luxurious cabin that makes All-electric Vivaro-e Life a peaceful oasis on the road.
Regenerative Braking
Journeys are smooth with All-electric Vivaro-e Life - not just for the comfort of your passengers, but for maximum energy and cost efficiency too.
As soon as you lift your foot off the accelerator, the regenerative braking system recaptures kinetic energy whilst braking and converts that power into even more range.
1Fuel economy and CO2 results for the Vauxhall Vivaro-e Life 100KW (136PS). Mpg (l/100km): N/A. CO2 emissions: 0g/km. Electric range up to 143 miles (WLTP). The range and electric consumption figures mentioned are preliminary and comply with the WLTP test procedure, on the basis of which new vehicles are type approved from 1 September 2018. They may vary depending on actual conditions of use and on different factors such as: vehicle load, accessories fitted (post registration), speed, thermal comfort on board the vehicle, driving style and outside temperature. The charging time depends in particular on the power of the charger on board the vehicle, the charging cable and the type and power of the charging station used. Please contact your Vauxhall Retailer for further information.
Included Extras
Air Con
Electric Windows

---
Daily Mileage - 250 Miles
Weekly Mileage - 800 miles
Monthly Mileage - 2800 miles
European Mileage - Unlimited
Excess Miles - 15p + VAT