Charity Van Pull Challenge at Gym's Summer Sizzler!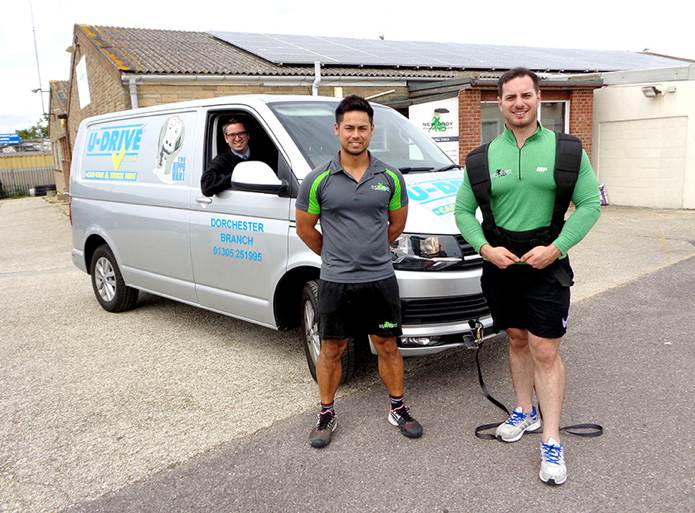 Charity Van Pull Challenge at Gym's Summer Sizzler!
18th July 2016 |
Local vehicle rental company, U-Drive Ltd, are sponsoring a challenge with a difference on Saturday 23rd July at New Body Fitness Centre & Gym in Weymouth! The 'U-Drive Van Pull Challenge', in aid of local charity the Friends of Wyvern, will see who can pull a 2.6 tonne van over 10 metres in the fastest time using just a harness – and some grit and determination!
The Summer Sizzler is an annual event at New Body Fitness Centre & Gym, which will include outdoor gym challenges, a hog roast and a free open day at the fitness centre's facilities. They recently teamed up with U-Drive Ltd to add an old-fashioned strength test to their events and raise money for the local children's charity.
"We're really looking forward to a fun day - getting our members together for a hog roast and inviting non-members to come and try out our gym facilities for free," said Nick Bell, New Body Fitness Owner. "When
U-Drive approached us with the van pull challenge idea, we thought it would be a great addition to our Summer Sizzler and we're really pleased to be supporting Friends of Wyvern."
Wyvern Academy is a purpose-built school in Weymouth for children and young people aged from 2 to 19 with complex needs, including Autistic Spectrum Disorder (ASD). Friends of Wyvern (registered charity number 272290) are a group of parents and staff from the school who raise funds for the benefit of the school and children. Gemma Brayshaw, from Friends of Wyvern, will be there on the day with a tombola including fantastic prizes and more information about the charity and its work.
"Friends of Wyvern charity are currently fundraising to install a sensory garden for all of the children aged 2 to 19 to enjoy," said Gemma. "Wyvern Academy is a fantastic schooling environment caring for and educating 80+ pupils all with complex additional needs. Our aim is to provide an accessible multi-sensory garden with memory tree centre piece and we are so pleased that both U-Drive and New Body Fitness have offered their support!"
U-Drive Ltd are hoping that the van pull challenge could become a regular event! Marketing Manager, Sarah Lambert said: "We'd really like to take the event on the road and support charities in all our 15 branch locations across the South and in Wales. And if pulling a 2.6 tonne van is found to be too easy for some of the competitors, then we've got a range of vehicles up to 7.5 tonnes to choose from next time!"
The Summer Sizzler day is open to both members and non-members of New Body Fitness Centre & Gym, but to take part in the 'U-Drive Pull Challenge' you must be over 18. The £5 challenge entrance fees will be donated to the Friends of Wyvern and everyone who takes part will receive a free gift from U-Drive Ltd. Prizes will also be awarded to the fastest male and fastest female to complete the challenge on the day.
The U-Drive Van Pull Challenge will take place from 10am to 4pm. To pre-book your place on the challenge, please call 01305 781991 or simply turn up on the day, however please be aware that spaces are limited. Non-members and spectators are welcome! So come and join in the fun, take on the challenge, check out the gym, and support a local good cause this Saturday 23rd July!