New Poole Rental Branch Opens!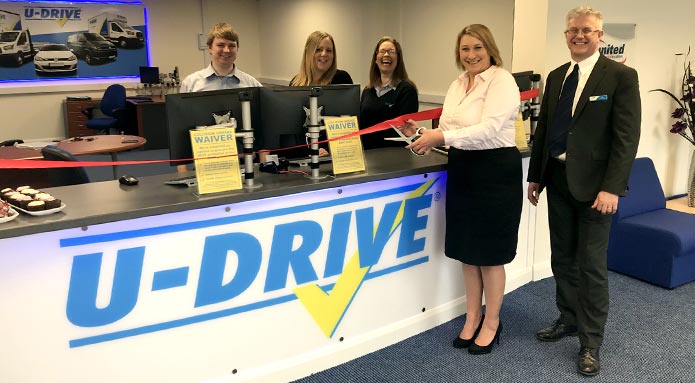 New Poole Rental Branch Opens!
18th April 2018 |
We are proud to announce the opening of our new rental branch and Head Office at Fancy Road in Poole!
U-Drive purchased a huge three-storey building in December 2017 and have since been moving support teams to the office areas on the first floor. This is now home to the Central Reservations team, as well as the insurance, accounts, marketing, HR and administration departments.
The ground floor is being transformed into a new repair workshop and in-house printing and signage facility, with the new and improved Poole branch reception to the front, offering more customer parking, easier access and a modern new look!
The new site is directly behind the Old Wareham Road location, which will be converted into a brand new office and showroom for U-Drive's sales division, Cars and Commercials. It will also continue to house the U-Drive MOT & Service Workshop, which – with five MOT bays to service almost all class requirements – is one of the largest in the south! The Workshop will gain a large new reception and waiting area to complete the development.
The investment is a result of U-Drive's recent growth and General Manager, Richard Sutton, credits the hard work of his entire team for the company's continued success:
"To purchase a building of this size is the next big step in U-Drive's 36-year history," said Richard. "We operate a network of 14 branches across the south and in Wales, and every branch team has contributed to the company's recent growth."
The size of the building has meant that all of U-Drive's Head Office functions can now be situated in one place, which has improved internal communications.
"With all of our Department Managers working together in the same building, we can be more responsive to business changes and make strategic decisions much more quickly," said Richard. However, moving so many team members to the new address has had its difficulties:
"The biggest challenge was moving our Central Reservations department from Romsey to Poole and setting up an entirely new phone system to deal with enquiries. But I've been really impressed with how the team responded. Everyone has been excited about the move and worked really hard to set up quickly and seamlessly. We were fully prepared and so I was pleased that there were no interruptions to our service during the move."
The new branch reception opened on Tuesday 17th April and the rental team were excited to cut the red ribbon to make it official! Branch Manager, Peter Shears, was impressed with the new reception and location:
"It's a great new facility for my team and I'm looking forward to opening the new branch to our customers. The reception is well laid-out, looks really smart and has ample customer parking to the front. I'm sure it's going to be very well-received."
Take a look around the new reception by watching the video below:
And here's the official opening ceremony and ribbon-cutting by Dawn, U-Drive's Operations Manager, alongside Peter the Branch Manager, Nathan the Assistant Manager and Nicci the Assistant Operations Manager:
For further information about U-Drive's vehicle hire services, please call us on 0800 980 9966.