Our Top Ten Safety Tips For Winter Driving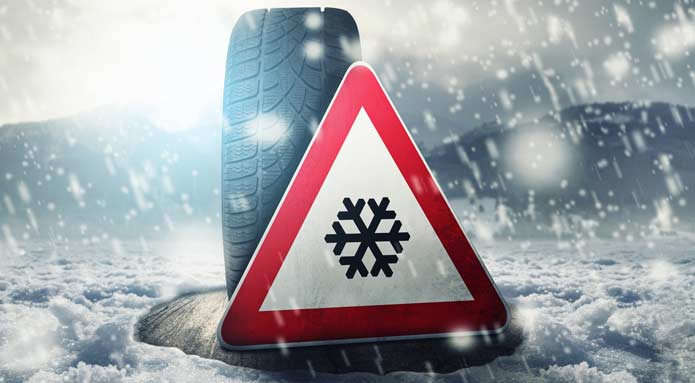 Our Top Ten Safety Tips For Winter Driving
12th January 2017 |
As temperatures plummet we're not the only ones feeling the cold…
The internet is bristling with top tips on how to keep your car or van safe over the winter months and we've rounded up what we think are the best 10 simple tips that can go a long way to making sure your vehicle stays in on the road all winter long!
1.) Enough Anti-Freeze?
Anti-freeze is incredibly important as it stops the car's engine from freezing in cold conditions! Check that your radiator has the correct level of anti-freeze and also that your windscreen washer fluid is topped up. It's tempting to just fill this with water, but buying a ready-to-use screenwash will help prevent it from freezing, so you can clear your windscreen when driving in rain and gritty conditions for better visibility.
2.) Pump it up?
In the winter months the increase in rain, snow, and ice makes the roads more dangerous than ever. Check the tread depth of your tyres and ensure they are inflated to the correct tyre pressure for your vehicle model and load, to decrease the risk of skidding. The current legal minimum tread depth is 1.6mm, but experts say that your tyres should have at least 3mm of tread depth during the winter months to maximise your safety.
3.) Shining Bright?
As the days get shorter it's likely that it'll be dark on your morning and evening commute. Ensuring that your lights are working properly and are sparkly clean is especially important at this time of year so road can always be seen clearly and other drivers can see you approaching.
4.) Wipers Working?
Making sure your lights are fully working is pointless if you can't see out of your windscreen! It's a good idea to check the windscreen wipers work properly and the windscreen-washer tank is full at this time of year as it is used more during the winter months as a result of messy road debris from snowstorms and wet weather conditions.
5.) Clear Car?
Deep in the winter months we may be lucky enough to get some snow, but even if we don't we're almost guaranteed ice. It is vital to clear ice off your car's windows and mirrors before setting off, if you don't have time invest in an ice scraper – they're a much better option than a credit card! Also make sure any lose snow is removed from the car. It is illegal to drive around covered in snow, as it could as it could fall into another driver's path.
6.) Full of fuel?
It is recommended that you keep a car's fuel gauge as full as possible in the winter months as icy road conditions can lead to accidents meaning you could end up stuck in unexpected traffic. It's generally good practice to keep your fuel above a quarter of a tank at all times, as letting it run low could damage the car.
7.) Snow Survival?
If the wintery conditions become too much and your car breaks down on the side of the road it's a sensible idea to be prepared! By packing just a few small things such as a warm blanket, a bottle of water, a first aid kit, snacks and maybe your favourite book you can be ready for every eventuality. This may sound a bit dramatic, but when you're waiting for a tow truck at the end of a snowy day you'll be grateful!
8.) Battery bother?
With the temperatures lowering it is often more difficult for a battery to operate, therefore a battery that merely works OK in the summer could be a dead battery by winter. It's a good idea to have a battery volt tested before winter comes so that it can be replaced if necessary meaning you won't be left worrying that your car might not start on a frosty Monday morning!
9.) Un-Inhabitable interior?
This one is more for your comfort than your car. Clear out the old receipts and wrappers, wipe down the door sills, and polish the dashboard. You should try to do all of this at least once a month or grime will start to build up and those long journeys will feel even longer.
10.) Time for a service?
By getting a professional to look over your car before the temperatures drop, not only will it give you some peace of mind, but any mechanical faults picked up can be resolved leaving it in tip top condition and giving you piece of mind. If you think your car could do with a service then U-Drive Ltd offer full servicing, with excellent customer service, at our Poole and Bournemouth Airport branches.
If you don't have time for these checks yourself, then U-Drive Ltd offer long and short term hire and leasing, with or without maintenance. All the vehicles are maintained to an exceptional standard and are supplied ready for any weather! Alternatively, our Workshops at Poole and Bournemouth Airport offer services & MOTs, so bring your vehicle to us and we can check it for you! Call us on 0800 980 9966 for more information.