U-Drive Helps Dartmouth Rotarians make their Largest Ever Delivery of Equipment for the Disabled!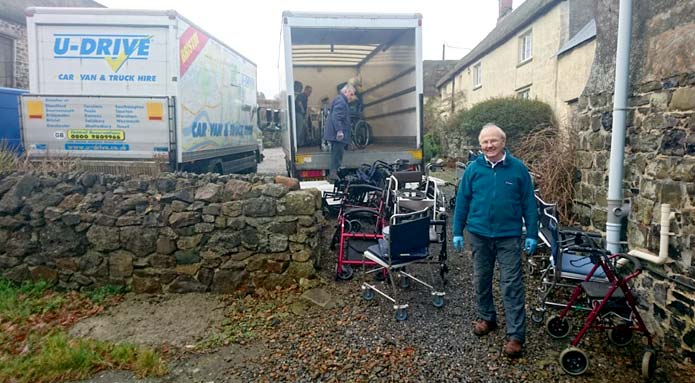 U-Drive Helps Dartmouth Rotarians make their Largest Ever Delivery of Equipment for the Disabled!
8th February 2017 |

In the latest of several trips, the Rotary Club of Dartmouth has made its largest delivery of physiotherapy and mobility equipment for the disabled in 3rd world countries.
The club hired two 7.5 tonne vans, supported by a free "overflow" LWB transit, to collect the equipment and deliver it to a reception centre in Gloucester.
Setting out from Dartmouth at 8.00 a.m. Rotarians Mike Freeman, Trevor Branton, Peter Shaw, Peter Goldstraw and Alan Depledge along with Nathan Ayres of Apollo IT and volunteer Colin Hewes of Kingsteignton who responded to a Rotary Club Tweet, the equipment from all over the South West was collected from a storage centre in a 17th century barn in the upper Teign valley.
However, the loading took seven people 2+ hours, and after other various hold ups on the road - the schedule slipped by 4 hours. Eventually the equipment was delivered safely to the reception centre in Gloucester. Discounted van hire (kind courtesy of U-Drive Exeter) and fuel costs of almost £450 were covered by PhysioNet.
The massive load delivered was made up of approximately:
Crutches 600
Mattresses 20 plus various pads
Stool commodes 200
Toilet frames 100
Shower chairs 40+
Trolley Tables 20
Wheeled walkers 40
Wheelchairs 70
Zimmer frames 200
Other individual appliances
Bag of children clothes
Assorted and expensive children's mobility equipment
Various boxes of medical supplies
Other spares

The group arrived back in Dartmouth at 10.15 p.m. having experienced a hard day but satisfied that they had done their bit for humanity.
Dartmouth Rotarian Mike Freeman said, "Firstly thank you everyone who helped make Saturday happen. It was a huge effort, and you all deserve a rest this week. It really was a successful result in the end – and apologies for the late return."
More trips are planned throughout 2017, although Mike explained that "The conditions / kit needs to be right. There is huge demand for wheel chairs and disability aids, but less so for zimmer frames and care-in-the-community items".
The equipment will be transferred to Yorkshire where prison inmates repair and renovate the equipment before it is shipped out in containers.
PhysioNet was established in 2005 with the aim of providing physiotherapy and mobility equipment for the disabled in developing countries.
The Dartmouth Rotary Club has organised 8+ collections on behalf of PhysioNet in 2016, providing organisation, drivers and effort.
Bulk collections of equipment are made from the NHS, Social Service Departments, Local Education Authorities and the private sector throughout the UK. PhysioNet is based in North Yorkshire with support centres in East Anglia, Lancashire, South East and the West Country.
Equipment is checked and listed at the PhysioNet depot in North Yorkshire. Items are then sent in 40' containers to destinations around the world, including Eastern Europe, Africa, Asia and the Pacific.
Rotary President Bill Parker commented, "Mike and his team have done a tremendous job. What they represent is something that lies at the very heart of Rotary, "service above self", devoting their time and working hard to help those in need."